K9 Unit Demonstrations at Employee Appreciation Day!
Dogs have always been considered man's best friend, but at the University of Utah's Department of Public Safety, canines are more than friends – they are also colleagues! At this year's Employee Appreciation Day (EAD) on September 28, 2023, Officer Sgt. Matt Feltenberger of the K9 Unit will be showcasing the incredible sniffing power of his Dutch Shepherd partner, Eva, through a series of explosive materials detection demonstrations. This will be the first-time ever that K9 demonstrations will be showcased at EAD, so be sure to mark your calendars to see this dynamic duo in action!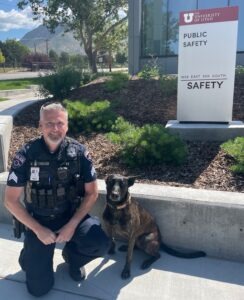 With most explosive materials detection work happening behind-the-scenes at Utes football games and other major events hosted on the U's campus, Sgt. Feltenberger is excited to show guests what Eva's powerful nose can do, and how she and the other K9s help keep the University of Utah a safe place to work and learn.
The Department of Public Safety's K9 Program started in 2018. Sgt. Feltenberger was among one of the first officers to be selected to train with a K9 named Zarah. Described as "drinking water from a fire hose," the 8-week intensive and rigorous training allows the paired officer and K9 to establish a much-needed kinship. "Figuring out the connection and getting to know the dog is one of the most challenging parts of training," Feltenberger says. "Trust is essential in the work that we do."
During training, officers also learn what it takes for a dog to be successful as a part of the K9 Unit.  They need to be extremely social, intelligent, friendly to people and other dogs, and have a natural hunt-retrieve instinct. Perhaps most surprisingly, K9s need to have a predisposition for playtime too.
"We let our dogs play with objects that have "bad" smells – aka bomb materials – as part of their training," Feltenberger explains. "That way, when they do detect an explosive device in real life, they are excited about it and know that a reward is coming! So really, when you see these dogs at work, they are actually in playtime mode. They are a real example of the old saying – if you love your job, then it's not work at all!"
The K9 Unit team came to learn of a Dutch Shepherd named Eva who was in need of a new handler after her previous handler had unexpectedly passed away. As an explosive materials detection K9 paid with federal grant money, Eva would have had to retire at only 3 years old if a new handler could not be identified; thankfully, Sgt. Feltenberger was able to bring her in as his new partner and the two have been inseparable as colleagues – and family members – ever since!
Like most K9s and their Officers, Eva comes home with Sgt. Feltenberger after a long day's work. "Eva has stellar motivation to work, but when she's home, she completely shuts off and is just a normal member of family," he says. "She loves playing with my other dog, and getting pets from my wife and kids. She's not destructive or aggressive in any way. You couldn't ask for a more perfect dog."
In addition to showcasing Eva's bomb detection skills, guests at this year's EAD will have a chance to meet both her and Sgt. Feltenberger as they roam around the concourse. Pets and scratches for Eva are permitted (with prior permission, of course)!
"I hope guests at EAD get a sense of our connection as handler and K9, and understand just how important that is for the job that we do," Sgt. Feltenberger says. "Becoming a K9 Officer has been one of the most rewarding things I have ever done. I've never had a job or career path that gave me this level of job satisfaction. There are not a lot of places you can work that let you take your best friend with you every day!"
If you are a University of Utah, HCI or U of U Health employee or student employee, be sure to mark your calendars for Employee Appreciation Day on September 28 from 10 am – 2 pm at Rice-Eccles Stadium for a chance to watch this exciting demonstration!
There are also many other activities and entertainment opportunities at this year's EAD! Other in-person activities include:
The return of Flashbacc the Band! This cover band will have you groovin' to the classic rock sounds of the 60's and 70's! Read more about Flashbacc!
Custom poems written on vintage typewriters courtesy of The Poem Pros! Read more about The Poem Pros!
Juggling performances by master juggler, Tanner Alder
Print & Mail photo booth and temporary airbrush tattoos
Hooked on Books - browse through donated books, CDs, DVDs, etc. for an EAD souvenir!
Flu shot clinic
Field activities, including the ever-popular football field goal kick; corn hole, giant Jenga and giant Connect Four; and Putting with the Police!
More activities and entertainment (in-person and virtual) to be announced!
We recommend you check back frequently on the EAD website for more information on what to expect at this year's event, including opportunities for volunteers!
We hope to see you there!