You may hear the clacking of keys echoing across the concourse at this year's Employee Appreciation Day (EAD), so be sure to stop by and receive a beautifully written souvenir courtesy of The Poem Pros! Back due to popular demand, The Poem Pros will return to EAD 2023 on:
Thursday, September 28, 2023
10 am – 2 pm
Rice-Eccles Stadium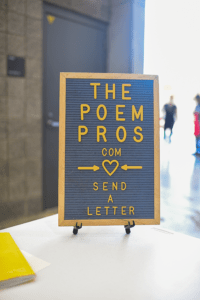 The Poem Pros are a local organization comprised of typewriting enthusiasts and other creatives with a simple mission: to get heartfelt words into the world delivered into the hands of those we love. They accomplish this through writing "quippies," unique-to-you poems written on vintage typewriters and handmade paper. Founded by Alix Court, The Poem Pros have been connecting people with the power of words since 2017.
"The Poem Pros is a culmination of many parts of my life," Alix explains. "When I was young, my grandmother gave me a journal and I developed a love of writing and words. That continued into my college years, where I became fascinated with 19th century literature while studying for my English degree. A lot of great 19th century works were written on typewriters, so when I stumbled across my first typewriter in an antiques shop in Logan – a Remington model with black and red ink – something just clicked and I knew I had to buy it."
Armed with his typewriter, passion for poetry, and a call for "free words," Alix attended the 2017 SLC Urban Flea Market and wrote his very first quippies for captivated flea market guests. Since then, The Poem Pros have been providing their writing services for not only Utahans, but for people across the United States and countries around the world.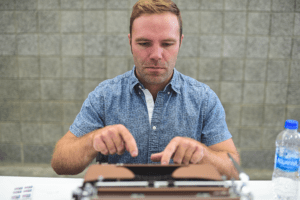 The process to receive a quippy at this year's EAD is simple. It all begins with a conversation between the typist and the guest – you can have a prompt already in mind, or you can dictate exactly what you want your quippy to say. If you aren't sure what you want you want to say, Alix recommends having someone in mind – a child, parent, spouse, coworker – and come prepared to share.
"The process to write and receive a quippy is actually quite emotional, for both the typist and the guest," Alix says. "You need to be willing to open up and share your intimate thoughts and feelings with a stranger. In 5-10 minutes, so many different emotions can be shared and felt. That can be hard for some people, but it's so worth it to put your feelings into words."
Alix recalls many touching moments from last year's EAD, but one in particular he thinks about often. "There was a very quiet gentleman in line for a quippy," he recalls, "and he wanted to write some words for his daughter – that he loved her and missed her, despite their strained relationship. The fact that I could use my own hands and typewriter to craft words that could possibly rekindle a relationship is the exact reason why I started The Poem Pros. There's always someone waiting to hear from you – so let The Poem Pros help get those heartfelt messages out! We hope to spread the message that there is true beauty and power in words."
If you are a University of Utah, HCI or U of U Health employee or student employee, be sure to mark your calendars for Employee Appreciation Day on September 28 from 10 am – 2 pm at Rice-Eccles Stadium to receive your personalized quippy from The Poem Pros!
There are also many other activities and entertainment opportunities at this year's EAD! Other in-person activities include:
The return of Flashbacc the Band! This cover band will have you groovin' to the classic rock sounds of the 60's and 70's! Read more about Flashbacc!
Juggling performances by master juggler, Tanner Alder
Print & Mail photo booth and temporary airbrush tattoos
Hooked on Books - browse through donated books, CDs, DVDs, etc. for an EAD souvenir!
Flu shot clinic
Field activities, including the ever-popular football field goal kick; corn hole, giant Jenga and giant Connect Four; and Putting with the Police!
More activities) and entertainment (in-person and virtual) to be announced!
We recommend you check back frequently on the EAD website for more information on what to expect at this year's event! We hope to see you there!