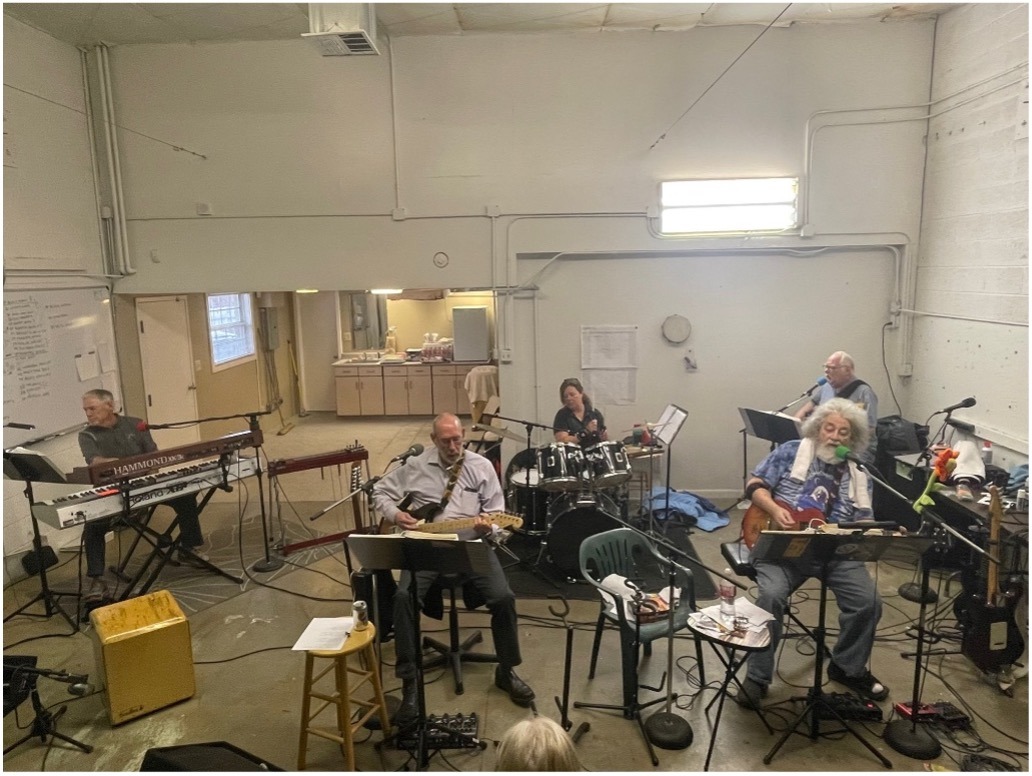 While taking photos with Swoop, munching on free food or kicking a field goal, guests at this year's Employee Appreciation Day (EAD) can expect to hear the legendary sounds of the 60s, 70s and 80s blasting through the speakers at Rice-Eccles Stadium. They may sound like The Eagles and their lead singer may be a Jerry Garcia doppelgänger, but it's actually Flashbacc, a local Salt Lake City classic rock band! Since they were such a hit at last year's event, they will be returning to play both cover songs and some original tunes at this year's EAD.
September 28, 2023
10am - 2pm
Rice Eccles Stadium.
Flashbacc is comprised of five members: Randy Reid (lead vocals and guitar); Wally Fowler (lead guitar and vocals); Steven Beckstead (bass and vocals); Roger Bird (keys, harmonica, and pedal steel guitar); and a familiar face to the University of Utah community - Theresa Ashman, the U's Associate Vice President of Financial Services (drums and cajon).
The band was started by lead singer Randy and lead guitarist Wally, who played guitar together back in the early 1970s. After returning from military service, the two friends decided to achieve sobriety together through the power of music - and thus Flashbacc was born! Bass player Steven joined after meeting and performing with Randy in the Salt Lake Symphonic Choir, and keyboard player Roger joined soon after, adding his superb original songwriting skills to the band's repertoire. Two years ago, Theresa found an opportunity to replace Flashbacc's drummer, and has been rocking out with them ever since!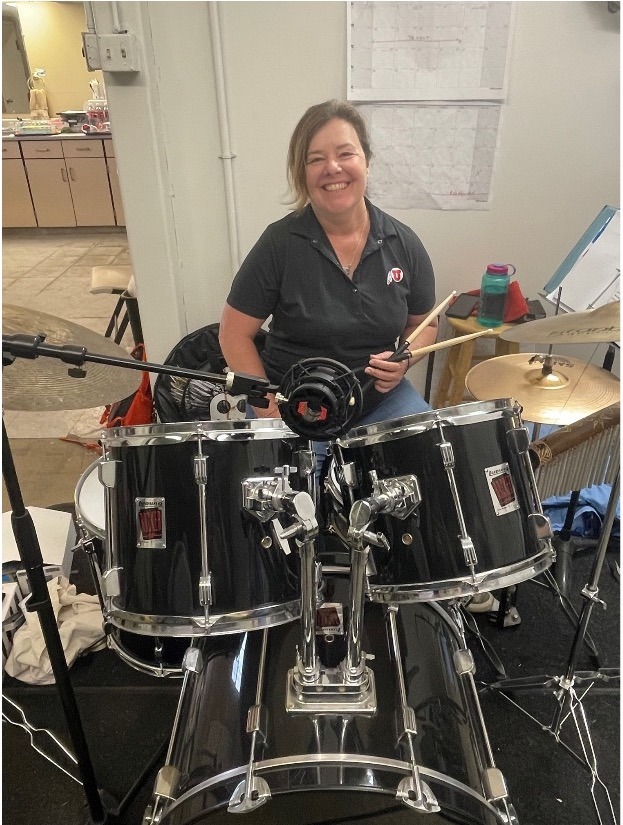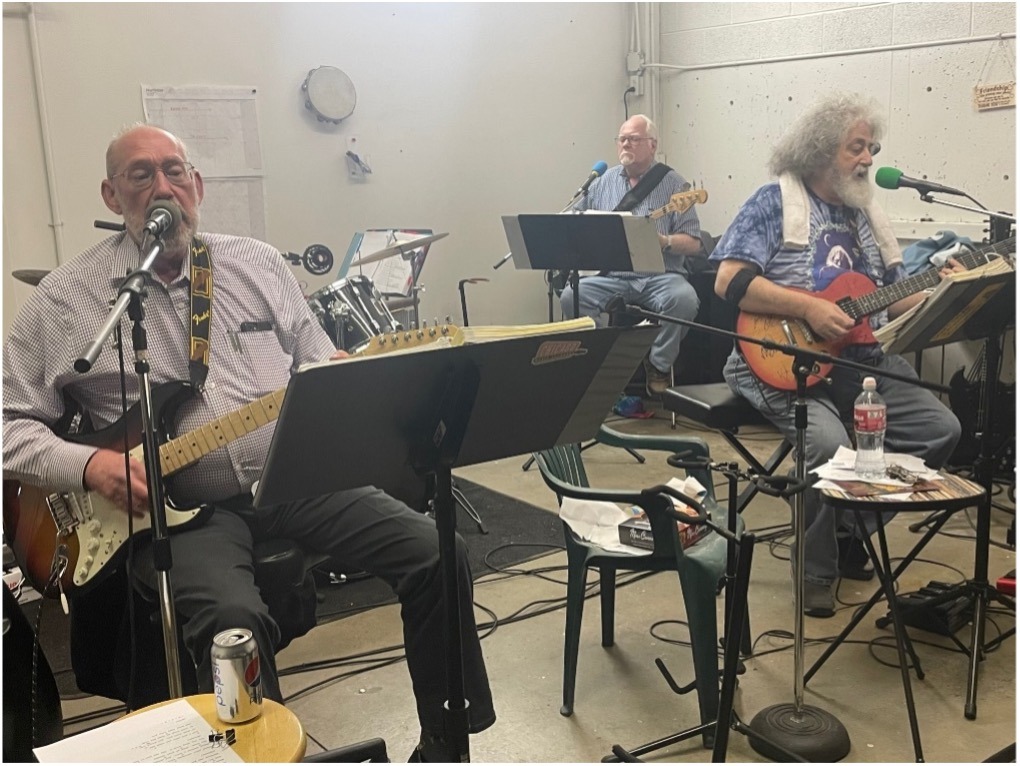 Outside of band rehearsals and performances, Theresa overseas nearly 200 employees in the offices of accounting/financial reporting, purchasing, grants and contracts, accounts payable and receivable, financial analytics, tax services and travel. She is thankful that the U provides her with a great work-life balance so she has time to pursue her passion to play alongside her talented bandmates.
"They say accountants make the best drummers," Theresa says, "so really, I am always practicing two of my passions - one at work and one at rehearsals and performances. Both accountants and drummers thrive on precision." In addition to playing her vintage 1970s drum kit ("a steal from KSL," she admits), Theresa also plays the cajon - a box-shaped drum originally from Peru. Her cajon was specially made for her out of beetle-killed pine - and it glows in the dark! She looks forward to showing off her one-of-a-kind cajon at this year's EAD, and encourages all University of Utah, HCI, and U of U Health employees to take advantage by attending this year's event.
"It's always important to step out of the office and take a break, especially on your busiest days," she says. "Even if you can come for just an hour to relax with a slice of free pizza and to enjoy some classic rock tunes, it's worth it for your well-being and mental health!"
Flashbacc's performance at EAD may be a bittersweet one, as it could very well be their final gig as a five-piece ensemble. Randy will be moving away to St. George to live with his brother, leaving Flashbacc without a lead vocalist.
"Though our EAD performance may be our swan song, we are still thankful to get a chance to perform once again at Rice-Eccles Stadium," Randy says. "My first job ever was working at the old wooden football stadium selling peanuts, and each of our band members also have a special connection to the U - we are alumni, or our family members attended the U. And at least we can say that Flashbacc got to perform a stadium show - not every band gets a chance to say that!"
Flashbacc's tenacity and passion for much is proves that it doesn't matter how old you are - you can still make noise!
If you are a University of Utah, HCI or U of U Health employee or student employee, be sure to mark your calendar for Employee Appreciation Day on September 28th to come jam with Flashbacc! There are also many other activities and entertainment opportunities at this EAD - we recommend you check out the EAD website for more information on what to expect at this year's event. We hope to see you there!